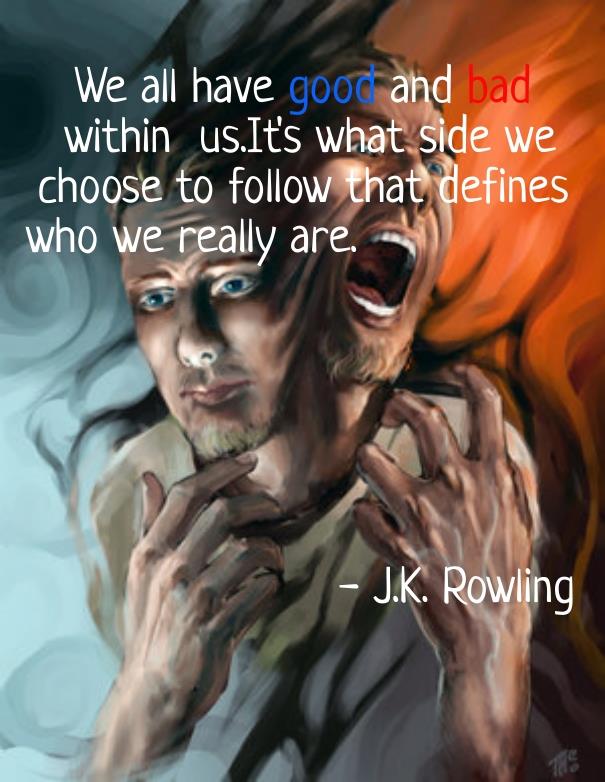 All of us have two sides. The first side is the one we show the world …a very beautiful and positive version of ourselves and the other version is the one we hide! Our darkest, weakest and the most annoying version! It is that devil which messes up almost everything in life! Everyone and by everyone I mean even THE MOST ADORABLE HUMAN BEING ON EARTH has a negative side. It is that version that even the closest of friends have never seen. Maybe a few family members have witnessed it and most importantly we are ashamed of that version! We are embarrassed to even think of situations where that negative side has been reflected. However it depends upon us as to what version should we go ahead with! Read this article to know how you can pacify that negative version and just be positive and value-oriented.
1) YOU HAVE TO PAY A PRICE FOR BEING GOOD AND BE READY TO PAY THAT PRICE BECAUSE FREE THINGS ARE CHEAP!
Most of us do not do anything bad out of choice, we do it because we are in a situation where being good can cost us a lot, but then as mentioned above be ready to pay that price. PAYING A PRICE FOR BEING GOOD WILL GIVE YOU PRICELESS GIFTS. Your good karma is taken into record and you will be given ample of blessings in the future for being good. Being bad is just so easy and you probably don't have to pay a price for it because its cheap. YOU MAY NOT PAY A PRICE FOR BEING BAD BUT YOU DEFINITELY NEED TO PAY A FINE. Your negative karma is being recorded so be ready to pay for it! Now it depends upon you whether you want to pay a price or you want to pay a fine!
2) ATTACH YOURSELF TO GOD INSTEAD OF PEOPLE OR THINGS
People and things force us to do negative things. We may not do anything bad to get something for ourselves but we might do it for others which is equally bad because here even their karma is getting negative since they are the ones who are provoking you to do all this. So if you are planning to do something negative for someone do realize that you are not only giving signals to the universe to give you punishment for your karma but the universe is all set to create hurdles for that person too! Thus attach yourself to God so that nobody and nothing in this world provokes you to do something bad and if you feel like doing something bad then remember what I have mentioned above and simply back out.
3) DO NOT COMPARE YOURSELF WITH OTHERS !A REAL DIAMOND CANT BE COMPARED TO ARTIFICIAL 

JEWELLERY
I don't know who wrote this but I really appreciate this line: "We are living in a world where artificial lemon is used in Lemonade and a fresh one is used for washing hands". This is so true! So when you try to be good you may not achieve great heights within a short span of time, it will take time but it will happen. However being fake may give you success instantly it is known as TEMPORARY SUCCESS. I hope nobody prefers this kind of success so stop comparing yourself with others. Don't judge anyone but just be happy that in a world where you are surrounded by frauds you possess a beautiful and an honest heart. Comparing yourself with people is only going to bring down your confidence. So stop comparing!
4) IF HE HAS OPENED THE DOOR HE WILL SHOW YOU THE WAY
You might feel that there is no option available excepting walking on the wrong track, its false! If you are in a stressful situation then you are there for a reason. Most of the time the reason is that you need to select the right option, you need to suffer ONLY TO GET SOMETHING BETTER! You will be able to get that thing only if you be good! So be good and He will surely show you the way!
5) IF YOU TRUST HIM HE WILL CREATE WONDERS FOR YOU
Let's take a simple example. A friend comes to you and gives you a very precious thing to take care of. He says, "This is a very priceless thing and I trust you a lot, would you please keep this safely?" What would you do? You will take utmost care of it and will never allow it to get damaged. Similarly WHEN YOU SHOW FAITH IN GOD REMEMBER THAT GOD WILL NEVER DESTROY YOUR TRUST. You will get what you asked for or maybe you will get something better . Trusting him and being good is the finest thing you can do in life.
6) THE BEST THING IN THE WORLD MAY NOT BE THE BEST THING FOR YOU
You prayed for something and you got something else and now to get that prior thing you are thinking of doing something bad just because that thing is considered to be an ideal thing for the world.History has proved this time and again that WHEN PEOPLE LET GO THEIR REJECTIONS AND ACCEPT WHATEVER THEY GET THEY TURN INTO LEGENDS. The reason why you are given a particular thing is because you will face lesser or maybe no pain because of it.So never turn yourself into a bad person to get what you are not given.
7) A DIAMOND IS ALWAYS COVERED BUT STILL IS THE KING OF ALL THE JEWELLERY ! SO ARE YOUR VALUES
Maybe this world will never realize how true you have been (And you should never do anything to show anything to people) but do realize that your values are your diamonds and diamonds are always covered. They are always kept safely! So maybe the world doesn't know about your hidden treasure but be super-happy that you have it!
8) REAL GOLD IS NEVER MIXED
Do you know what a real gold is? I know your answer is 24 carats but I am talking about the structure. It is a clay type structure that can be moulded! So there are biscuits of gold available and they cant be used in ornaments. Artificial gold is real gold mixed with bronze and copper and the very fact that it got mixed with others made it artificial! So if you want to be a real gold do not mix your purity with the negativities in this world. There will be a time when you might think its okay to adapt something negative and its okay to be a bad person but its not! It is going to turn you into an artificial gold. You will lose your purity. I am not telling you do not change but let those changes be positive. Sacrificing your value is not a positive change. So don't allow your purity to get ruined by mixing up with the negativity in this world.
The reason why I am emphasizing this word is because most of us think our life is some sort of bollywood movie wherein the evil tries to overpower the hero and the hero within 15 minutes of climax destroys the evil. This is not how things work! In fact the making of the last scene itself must have taken a month or so. Thus how can you expect overnight miracles in life? I am telling this out of my personal experience. 
Time is a great healer. IF YOU FEEL SHATTERED TODAY, NEXT YEAR ON THE SAME DATE YOU WILL BE THE MOST CONFIDENT PERSON YOU HAVE EVER KNOWN, but it takes time! So be good and let some time pass and it will all be good.
We are living in a world where people just don't allow us to stay good. They trigger us to turn bad and if you allow them to do so you are a weak person because you are giving the other person so much of liberty to turn you into a person you never want to be. So keep the above points in mind and never allow the devil in you to overpower the good in you. I hope you walk on the right track. Thank you so much.
Share your thoughts on what this post means to you...
comments
Are you going through Migraine, Stress, Anxiety, Grief, Phobia, Trauma, Addiction, Depression, Bad Anger, Dyslexia or any other mental issues?
Are you suffering Knee Pain, Sinus, Thyroid, Acidity, Digestion problem or any other disease?
If YES, please book your appointment now at WISDOM HEALING CENTER by filling this form -> https://goo.gl/forms/22adjIAFPNZxRRmR2 & we will contact you soon. To know more about our center, visit our website -> www.wisdomhealingcenter.com
Send us mail at wisdomhealingcenter@gmail.com for any queries. We are looking forward to hear from you!