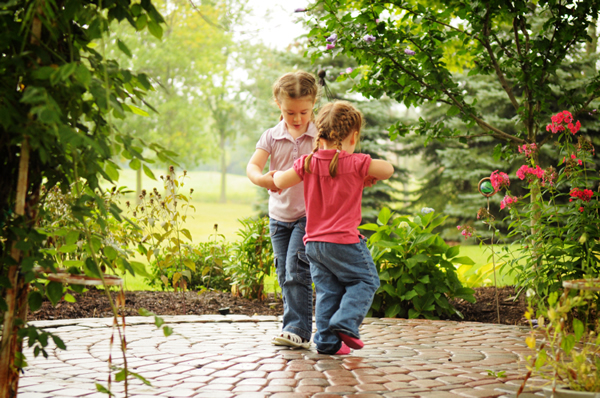 It was rainy season in Russia and in a certain village the rain water was flowing in streams in a street. As the rain stopped , two little girls older Akulya and younger Malasha started playing in the street water. It was festival time and they were wearing new frocks.

Malasha stamped her foot in the muddy water which splashed and fell on Akulya's new frock.  As Akulya was rubbing out the mud, her  mother walked by. She looked at her daughter's dress and scolded her.

"How can you make your new dress so dirty?" she asked.

"Malasha splashed the water on me, mother," She replied.

Akulya's mother caught Malasha and gave two or three slaps on the back . Malasha started weeping loudly catching attention of  her mother as their house was nearby . She came out in hurry.

"Why are you weeping?" asked her mother.

"Akulya's mother beat me on my back," said Malasha.

Malasha's mother started abusing Akulya's mother. Soon they started quarrelling loudly. They called each other names. Their shouting continued.

Other women joined them soon. Some supported Akulya's mother. Some supported Malasha's mother. The two fighting groups became bigger and bigger. The men also joined in the fighting. The quarrel became never ending.

The grandmother of Akulya was a wise women advising not to fight but no one listened to her.

In the meantime Malasha and Akulya forgot about their quarrel. They became friends again. They moved away from the fighting crowd. They started letting paper boats in the running water.

Now the old woman said to the fighting groups. "Look at the children. They have forgotten their quarrel. They have started playing again and became friends again. But you men and women still keep quarrelling. Are you not ashamed ?"

The men and the women looked at the little girls. They felt ashamed. They went back to their houses quietly.

Children forget and forgive very easily. The elders learnt this lesson from the little girls.
Share your thoughts on what this post means to you...
comments
WISDOMHEALINGCENTER.COM: An Online Counselling & Distant Energy Healing center to support & help you to get yourself healed from any life issues, problems, challenges and diseases.
We recommend you to start Energy Scan Session with us to know more about yourself.  If you have any questions prior to any service or healing session, feel free to mail us on wisdomhealingcenter@gmail.com & our team will get back to you within 24-48 hours. Visit our website -> www.wisdomhealingcenter.com to know more about us. Looking forward to hear you!